Today, I'm talking about flower. Yes, I want you to discover one of my favorite places in Singapore : Gardens by The Bay. World-renowned for its metal-structured plant trees, the park also has two domes: the Cloud Forest (which contains a true mountain of tropical forest) and the Flower Dome where thousands of different types of flowers from all over the world are displayed.
There is a shortlist of flower from which I extracted some color palettes.
Plumeria (Frangipani) – FROM central America, AsiA & Pacific
Frangipani is my favorite flower here in Singapore. It has a perfect shape with its five slightly overlapping immaculate white petals and its yellow heart. And don't get me started on its bewitching smell. Love it !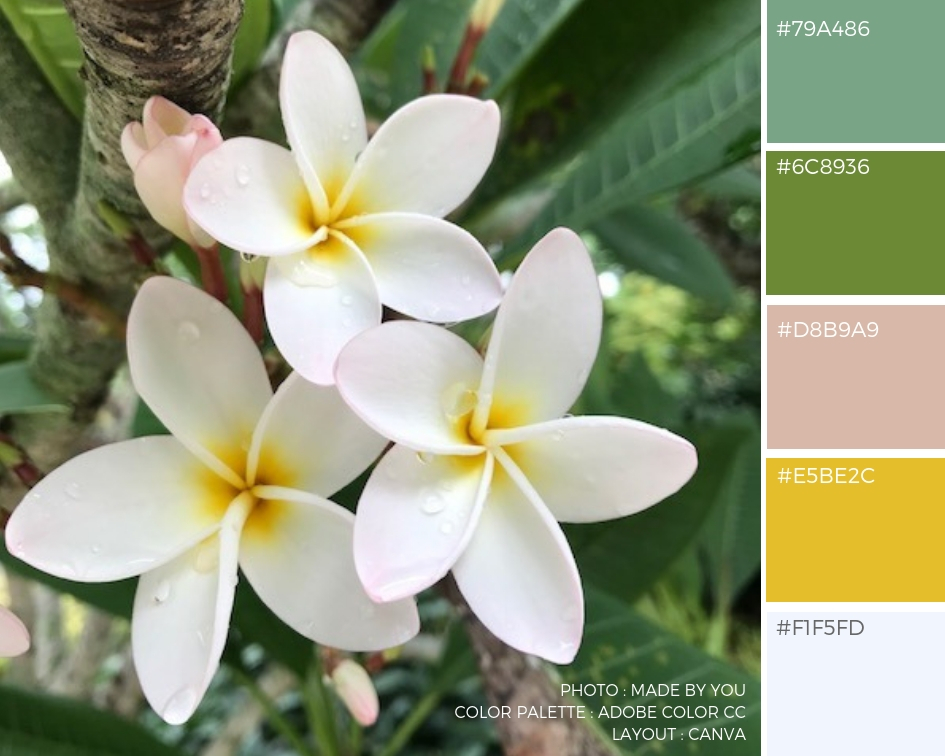 Fuchsia – FROM latin America, new zealand & Tahiti
I love fuchsia. They remind me of little star dancers with their green heads, pink bodies, fuchsia tutus and pistils that look like thin legs. To be honest, I discovered at the Gardens By The Bay that there are several colors of this flower. We learn something new every day!
Sunflower – From AMERICAs
If I tell you to name me the name of a flower, you tell me: sunflower. And for good reason, I think it is the most famous flower in the world. It is often a sunflower that children naturally draw. It is the symbol of the sun and their way of sulking when the sun is not there always impresses me.
Arum – FROM Europe, north Africa & Western AsiA
During this visit to the Flower Dome, I learnt that Arum could take on many colors. I knew her white but I had never seen purple like this.  Each time I see this flower, I think about Réunion Island where my family comes from. Although I think it's more Calla (not really Arum), it inspires me the sun, the sea and the heat.
Pin Cushion Protea – From AustraliA
I do not know if I say true on the name of this flower (I forgot to read the small panel in the dome) but I find it incredible. When we see such a thing, we have the right to say that Nature really creates amazing things.
??? – Origine : Australie
That one, I'll call it the "Unknown Australian Flower". Why? Because I have no idea what the name of this yellow flower is. Why post it then? Because, just like the previous flower, I find the structure of it really amazing.
I also find the gradient from yellow to ocher is well thought by Mother Nature. The color of the flowers in full form offer an interesting contrast with the color of the faded flowers.
And you, what do you see amazing in nature?