So you're going to tell me, why is she talking about knitting? First, she's a web designer, and then, it's an old granny's hobby.
I can assure you, I haven't lost my mind and I'm going to talk to you about knitting right here, right now. For a long time, and always a little bit, considered as a hobby of a grandmother – or mother – knitting has become fashionable again among the – most – youngest person. And it doesn't just affect women. By the way, did you know that in Peru it is men who knit?
Why do I want to talk to you about knitting? Because for me, as with many people, when I'm stuck in a project feature, I need a break. It's something I often say "If you're stuck, try to take your mind off it and the solution will come to you". It's a bit like "Let's sleep on it" to me. But until I get some sleep, I'm knitting. What are the benefits of knitting on our health and the progress of your projects?
Knitting will make you happy
Knitting requires concentration. Actually, you have to be focused on a movement that you will repeat over and over again. I don't know if you've ever done meditation or yoga, but knitting is similar. With meditation, you focus on your breathing, who comes and goes. About yoga, you focus on your breathing and positions. In knitting, you focus on the stitches you are making.
In addition, by focusing on a single repetitive action, your brain will lower its activity which will calm you down. In the end, knitting is a stress reliever: it is reportedly prescribed as an anti-stress treatment by some doctors in the USA.
Knitting CoULD BE GOOD FOR the brain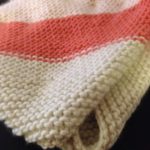 The brain is a muscle. I'm not telling you anything new here. Like all muscles, you have to train it. It has been proven that training his brain will prevent a risk of Alzheimer's. With knitting, your hands make quick, repetitive and careful movements. This will stimulate your tiny neurons (in a different way than your current project) and the connection between them. To make it short, knitting would be the 100 meters sprint of the brain. So keep your neural connections intact and start knitting.
Knitting Could strengthen self-esteem
Do you like when your projects are finished? At work, a project with your children, the end of your holiday planning? Now imagine finishing a sweater, scarf or hat for your newborn nephew. Satisfying, no? I am a hands-on person and it is true that having finished something with your own hands is very pleasant. Especially since you can wear – or see your creation worn. Choose pretty colours and materials and get started!
Knitting could be good for the body
I see you coming. Staying in your sofa or chair while knitting is not really healthy. Of course, I'm not talking about knitting your sweater all at once. I will always advise you, even in your current project/work, to get up every hour.
What I mean ? Supposing, like me, you are often tense on your keyboard or mouse, stretching your fingers by making them dance on the needles can be a good way to give your joints a break. Just as it is advisable to give your eyes a break, so it is for your hands and wrists. On your mark, get set, knit!
Knitting could be social
Gone is the little granny who knits by the fire with her cat on her feet (clichés die hard). Knitting comes out of the cottages! As the matter of fact, the new – young – knitters come out in groups. When I was working in Paris, I often saw groups of friends in a bar drinking a pint or mojito while knitting and jawing! Even here in Singapore, I once saw two friends in the subway knitting a scarf (they may have had a movie outing planned). So don't be afraid of other people's eyes and clichés anymore and take out your needles!
And at last, see all these pretty colors (because yes, the ancient spruce green wool balls are no longer the only choice of color) and touch all these soft materials (I only recommend natural materials, down with acrylic), well, it's still nice. It feels like a little cat curling up in a cozy little nest.
Well, with that, I finish this article, knit five rows and get back to my work.